Music and presentation coordinated and designed for your specific group ensures an amazing event every time
Excitement and elegance at the Inn At Erlowest
The Queensbury Hotel Ballroom with our lighting system in action
Feeling the joy of the moment on the dance floor at the Lake George Club (private)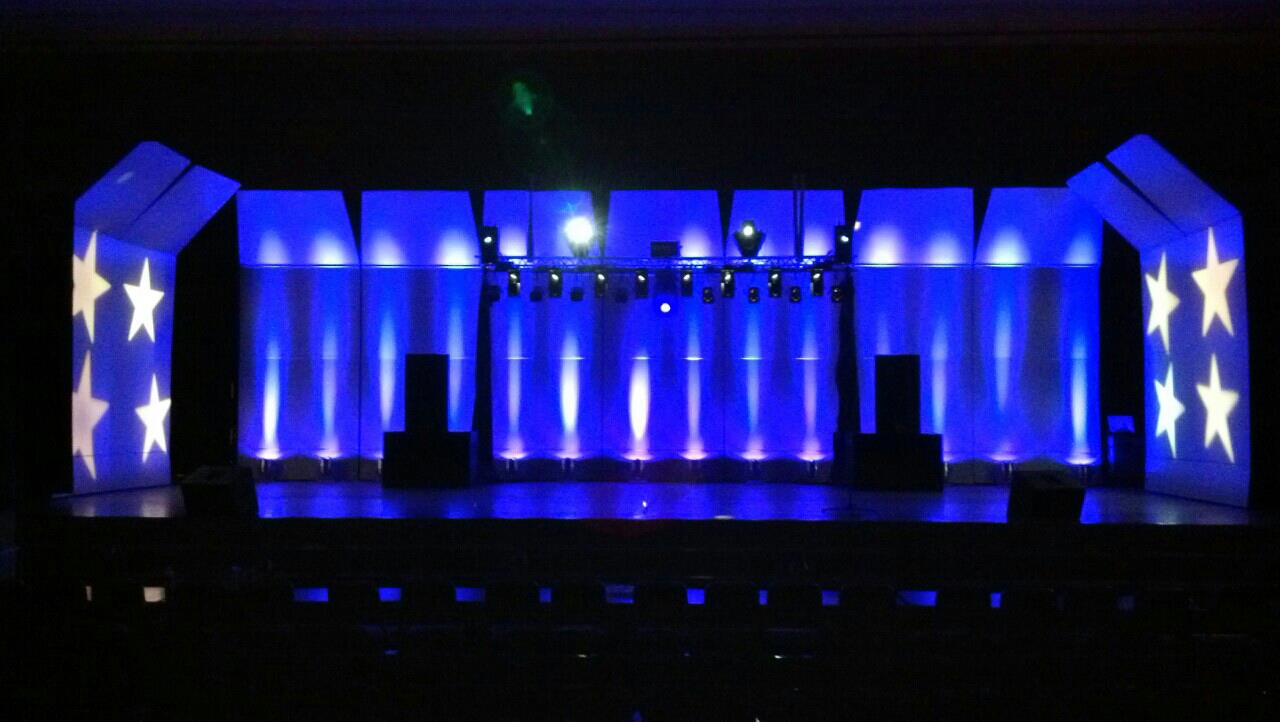 Longfellows comes alive with our JBL Concert Audio System
We offer our JBL Concert Audio Systems and Martin Intelligent Lighting Systems in many different sizes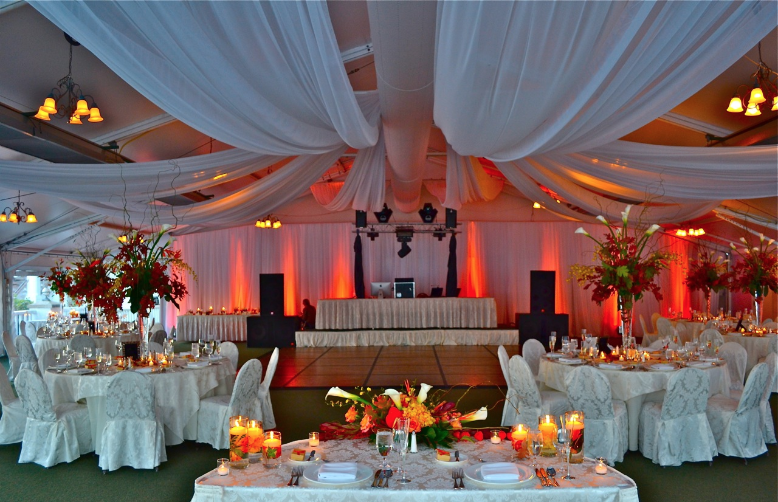 Our passion is performing at some of life's most memorable events... wedding receptions, corporate functions, themed events, retirement parties, proms, Bar or Bat Mitzvahs, and we'd love to perform at yours! Your style will be different from our last clients. We all know that one client's idea of the perfect function is another client's worst nightmare. That is why we take the time with you to plan your vision of the perfect event. We want you to be at ease and feel like guests at your own party and know that your entertainment will be flawless. Our engineered sound systems are so clean that you will feel you are experiencing a live performance. However, the true concept of disc jockey entertainment is far more than just playing music, and it is this element that sets us apart from the rest. We are professional entertainers who have worked with thousands of clients over many years. Your choice of entertainment is the single most important decision you will make in regard to any event. You'll feel the confidence we instill in our clients by keeping the emphasis on the quality of the product instead of the quantity.
One of our stunning uplighting installations at the historic Canfield Casino in Saratoga Springs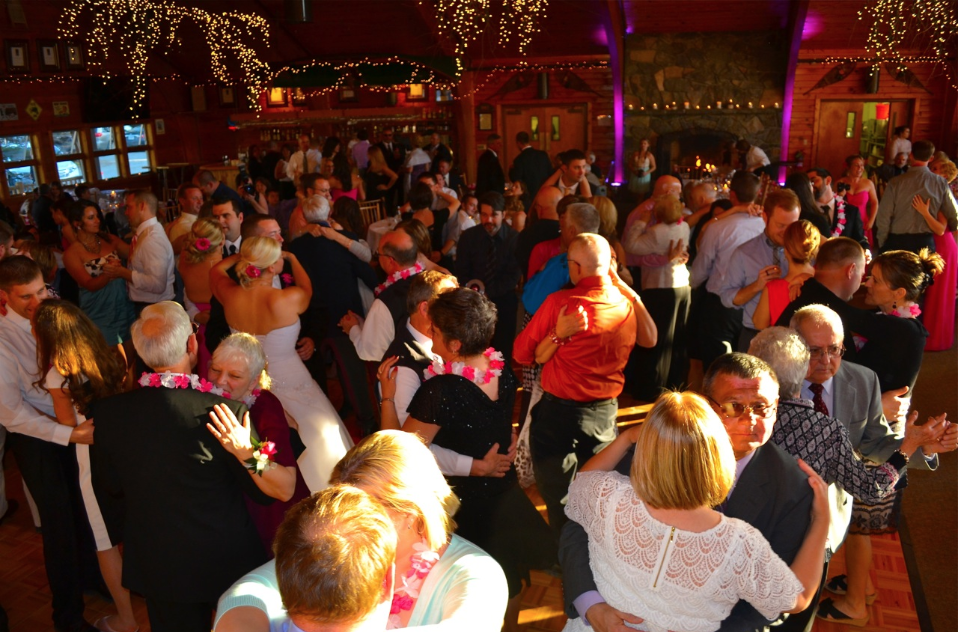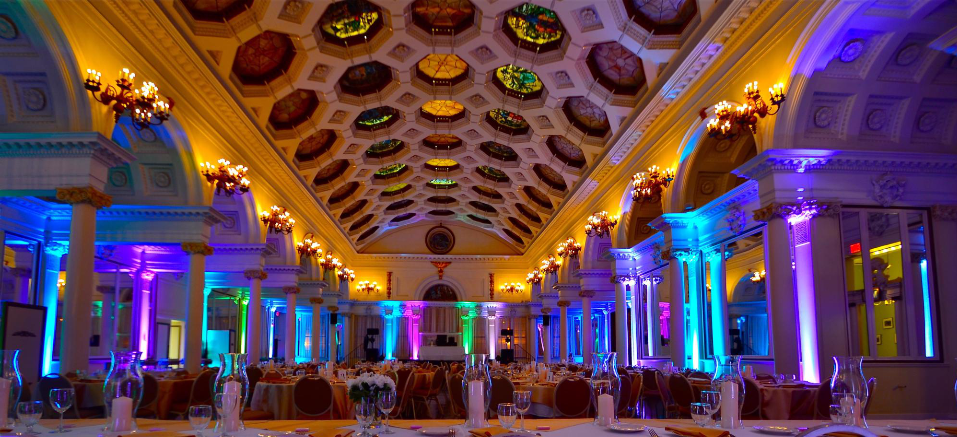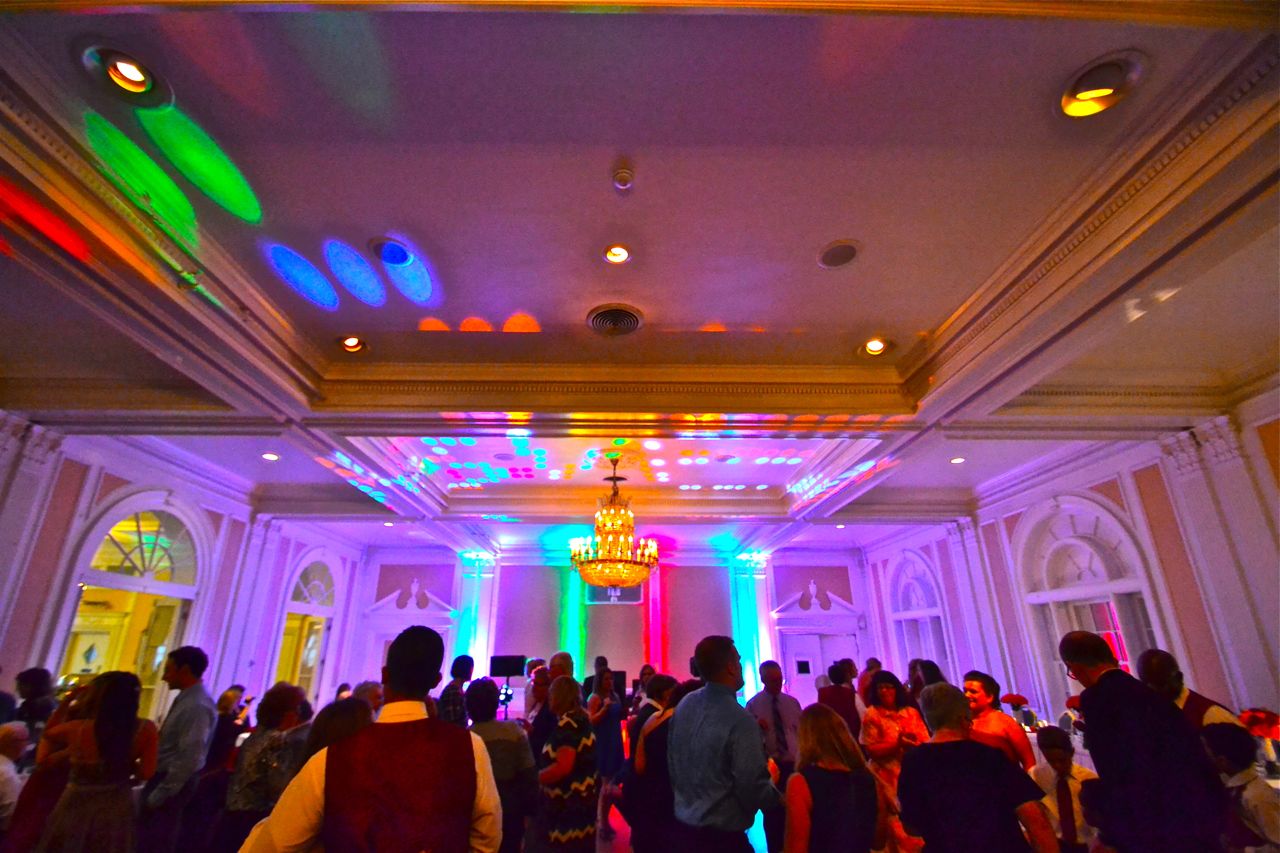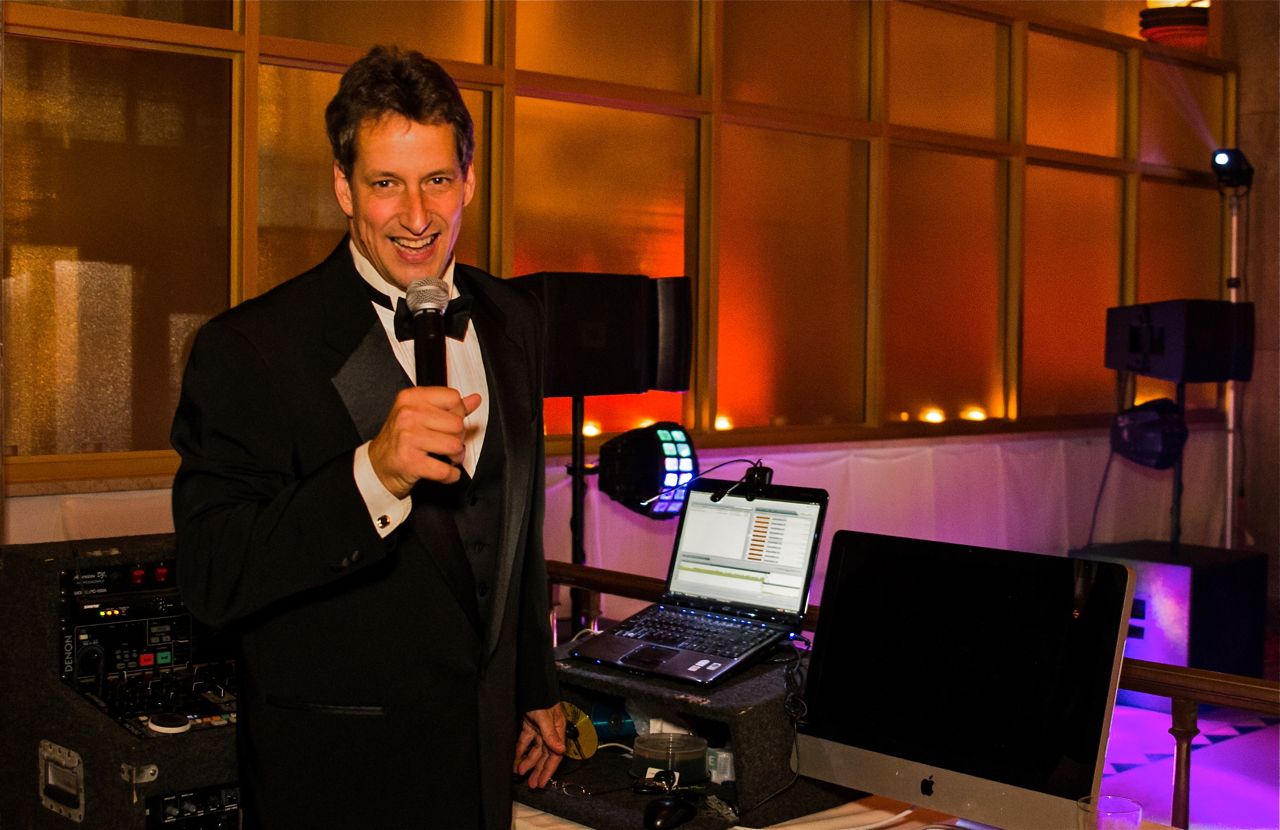 My Years of Experience: I am a trained professional who will dress formally and emcee professionally. I know how to add to the excitement, without taking the focus off you or your guests. I'll give you exactly what you want! My personality will make the difference! More than just DJ, I am an entertainment specialist. I have been making dreams come true for clients since 1973. I performed my first school show at the age of twelve and my first wedding at fifteen. My many years of professional voice lessons and the proper use of vocal techniques will assure a world class bass voice for all of your announcements. My company is a single owner operator by choice. Avoid multi operator companies and experience the difference that true quality and passion can make. Your special day deserves far better than the "Walmarts of the wedding world".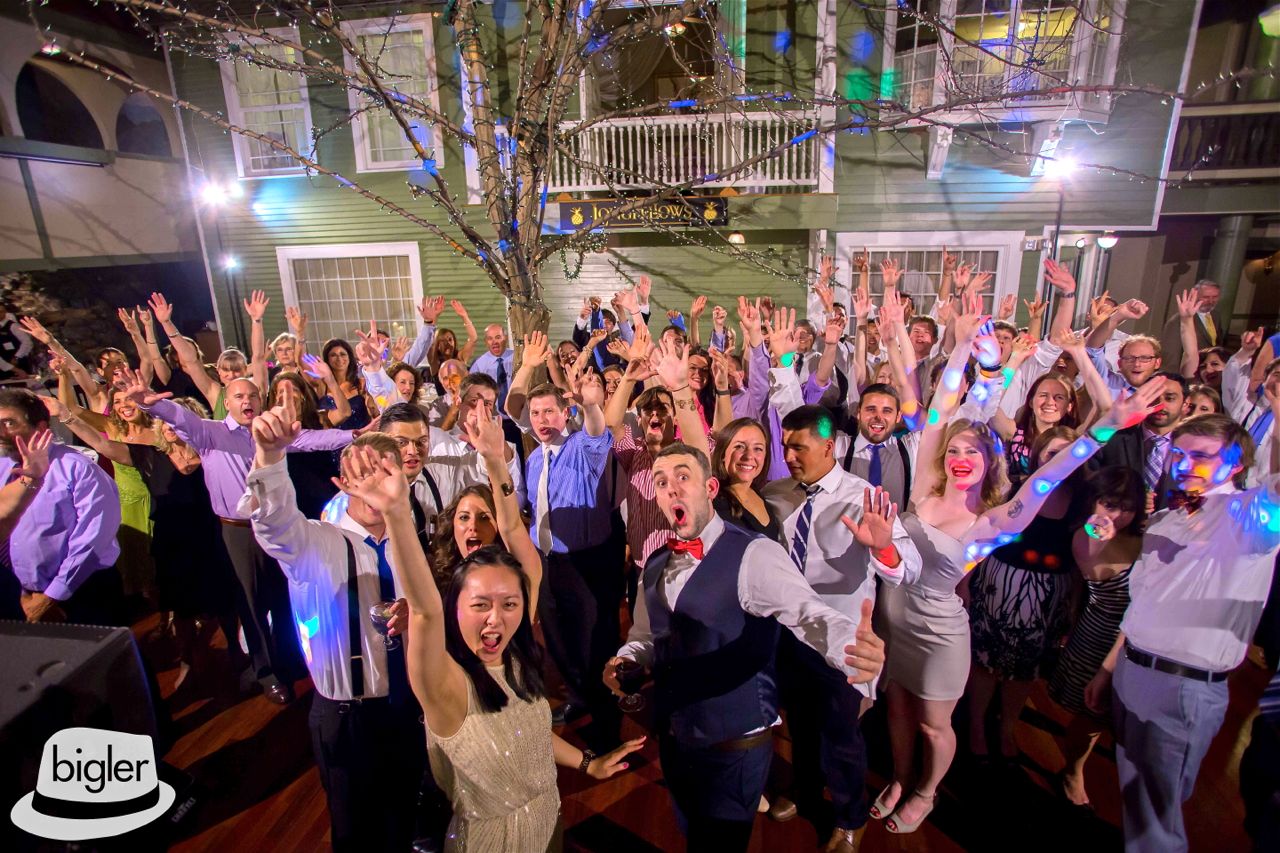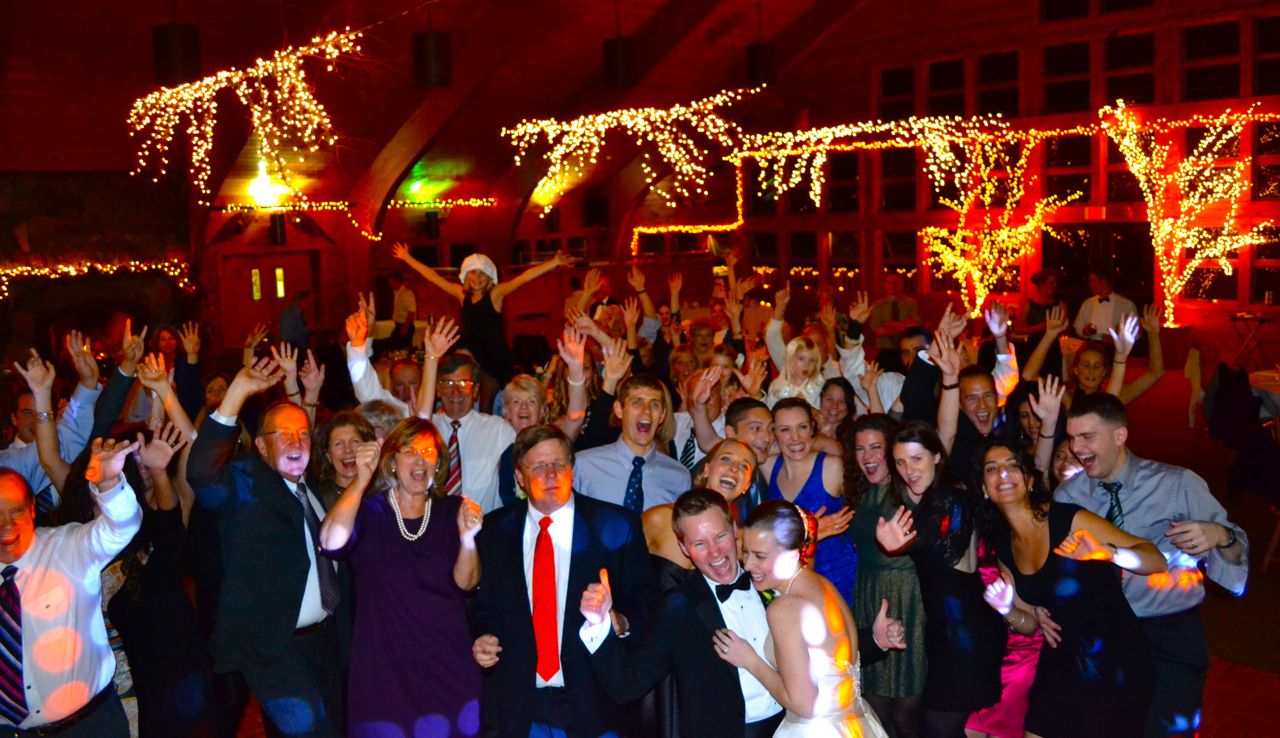 The Music: With tens of thousands of songs on our digital hard drives, we can provide a wide variety of music styles for all age groups to enjoy, including extensive selections of the hottest hits of today's Top 40, Dance, Hip Hop, Rap, decade music of the 40's, 50's, 60's, 70's, 80's, 90's, Classics, R&B, Country, Rock, Alternative, Swing, Big Band, Novelty Dances... the list is endless. You may even exclude a particular style of music or series of songs from your event. This is also known as a "do not play list." Some of our most requested and often played songs can be found on our Top 3000 Song list. Of course, we know you may have your own favorites as well, and your requests are always welcome! All music is provided on compact disc or via laptop computer hard drive to provide the best audio performance possible. Can't seem to find the right song? We have suggestions for all types of functions available on our special music list. We are available to help plan the musical details for any type of event where danceable music is the entertainment of choice. You may contact us online at djandypratt@aol.com or phone us at 518-644-9762.
The never ending dance floor action at Jimbo's Club in Brant Lake
One of our higher end sound and lighting systems installed at the Sagamore Resort Hotel in Bolton Landing